Order Overview​
The order overview breaks down the pricing of all the services within an appointment. This includes:
Amount the total amount of product used in the service.
Extra the value (in $) of extra product used after going over the product allowance.
Total the total price of the service (base price of service + extra product used).
If the order has services attached, you can click and expand them to see a breakdown of the associated products: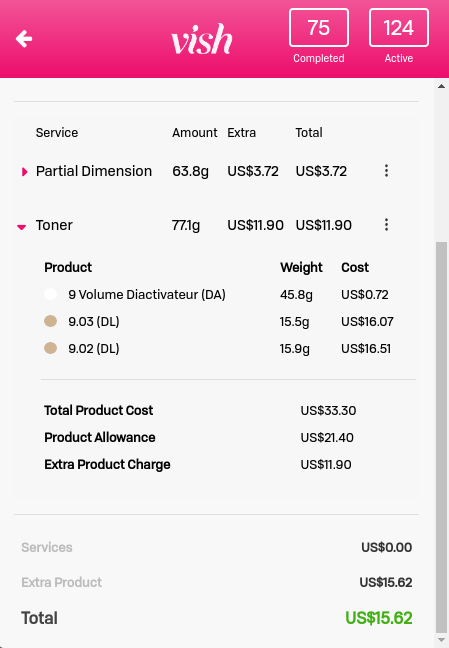 Checking Out an Order​
To check out an order, simply click Checkout at the top. This will finalize the order in the Vish system.
If the customer was charged a different amount than the Vish total, click on Revise Total and enter in the charged amount. This will allow Vish to accurately calculate key metrics for the analytics.
Reactivating an Order​
If, for any reason, a colorist would like to resume an appointment after it has been checked out, you may reactivate the order. Click More Options in the top right corner and select Reactivate. The colorist will now be able to re-enter the appointment on the Vish Color Bar App
Marking a Service as a Redo​
If a client comes back for a redo, simply click More Options to the right of the service and select redo.