Welcome to the Vish Help Center. Here's a detailed walkthrough of everything you need to know to start using Vish​
What is Vish?​
Vish is an online solution — a group of apps — designed to help your hair color business thrive. The Vish Ecosystem is made up of three main systems: Vish Color Bar App, Vish Dashboard, and Vish Front Desk. Together, they'll help you optimize and manage your work like never before.
Here's a quick summary of how they work:
Vish Color Bar App​
Keeping track of your clients' color has never been easier!​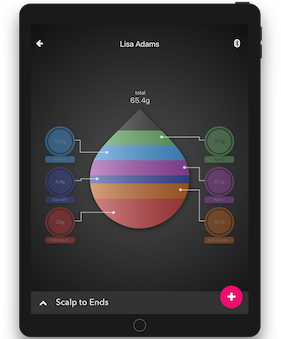 Record All Formulas​
The Color Bar App automatically records and organizes all of your formulas as you work, and was designed specifically for colorists who use manufacturer-style methodology. The Vish Color Bar App records and organizes all of your formulas as you go — everything you mix is updated directly to your client's profile.
Reduce Waste & Optimize Color​
Vish helps you get things right time and time again, without all of the waste. It uses the information entered over time to refine color formulas based on previous waste, and recalculates formulas to exact consistency.
Simply put, it allows you to identify favorite color formulas, and helps you replicate them perfectly each time.
Cut back on paper & human error​
Vish makes scribbling formulas on to paper a thing of the past. The Color Bar automatically updates formulas and communicates additional services to the front desk.
Vish Dashboard​
The Vish Dashboard gives you a bird's eye view of your entire color business, and lets you manage everything easily.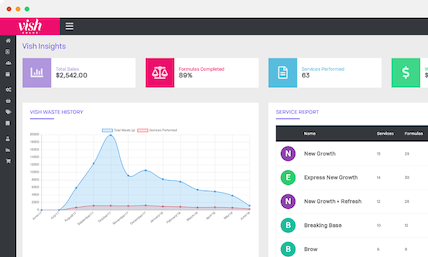 Manage Your Platform​
Set up services, new employees, and arrange our easy-to-use system to suit your own needs and workflow style.
Accurately Price Your Services​
Price each service by experience level and color product allowance. Vish will help you capture all services applied and increase revenue.
Insights And Analytics​
The Vish Dashboard offers insights into a salon's color business; key reports on usage, waste, and applications, in addition to team member performance and guest records.
Front Desk App​
Make life a lot simpler and more efficient for your reception team and front desk staff.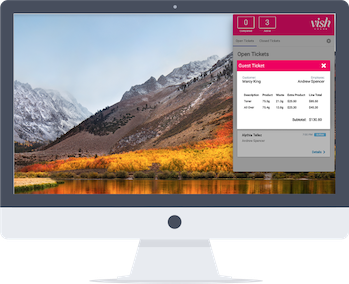 Eliminate paper and reduce human error​
Instead of getting handed a paper with scribbled notes, automatically receive detailed and accurately priced charges for the services performed right to your screen.
Remove the guesswork from your client's experience​
Your clients can rest assured that every aspect of their previous coloring service has been recorded. Everything that gets mixed at the color bar is communicated to the front desk.
Service Overview​
Stay on top of business with a real-time view of every color service performed in your salon.