If you already have installed the Vish Front Desk App, you can skip this guide
The Vish Front Desk App supports both Windows and Mac​
Download the appropriate installer package for your platform:

Once downloaded, double-click the file and follow the instructions to install
Troubleshooting​
Windows​
Windows protected your PC​
If you receive a Windows protected your PC warning, try the following:
Click the 'More info' text at the top left of the popup: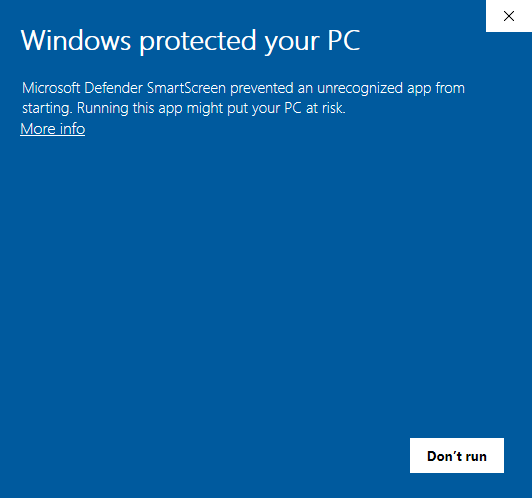 Click the 'Run anyway' button at the bottom right: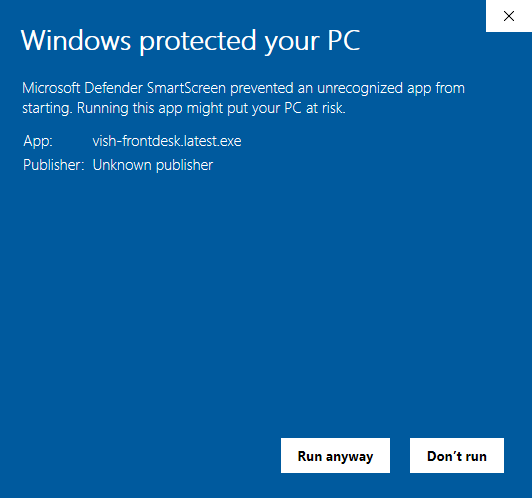 From here, the installer should run as normal.
You may also get a warning from another installed antivirus software on your machine about running an unrecognized program. If this happens, usually you can choose 'Run anyway' or 'Ignore' to proceed with the install, but you may need to look up how to run an unrecognized program with your antivirus.
MacOS​
Developer cannot be verified​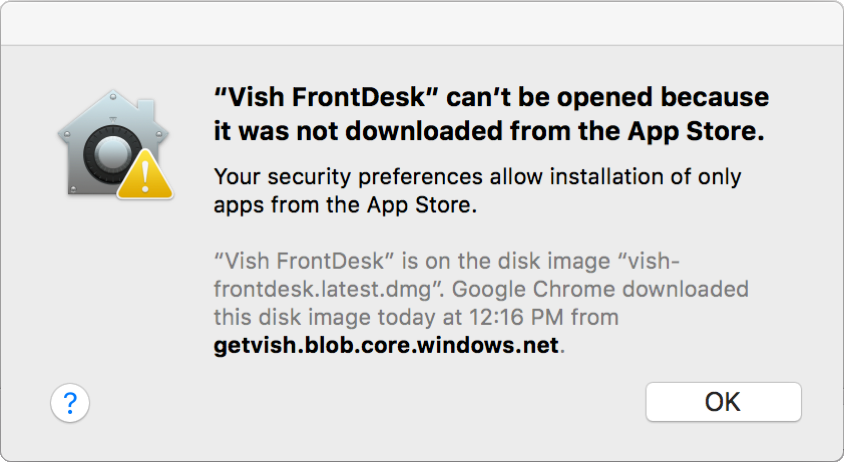 If you receive a "Vish FrontDesk" can't be opened or a similar warning message while trying to install, follow these steps to resolve:
If you are presented with the option to Open or Open Anyway, select this option. This software is developed by Vish and will not harm your computer.
If the above options do not exist, you will need to edit your security preferences to allow the install.
In System Preferences, click Security & Privacy, then click General. Click the lock and enter your password to make changes.
Under the 'Allow apps downloaded from:' section, ensure 'App Store and identified developers' is selected.
Locate the Vish Front Desk install file (.dmg) and double click to open. The file should now open, or you may have to select Open from the dialog that appears.
If you are still experiencing issues, visit https://support.apple.com/en-ca/HT202491 for further troubleshooting steps, or contact a Vish Customer Service representative.